Cmsmart is one of the leading companies of Magento and Virtuemart. With a professional developers, we have developed more than 50 products o for Magento and 50 products for Virtuemart. Now, to meet up with the trend, Cmsmart has just published a new product called Magento Game store Theme. We created  this Game Store Theme as an explosive theme with good graphic approaching closer to online game-holic. The theme gathers some advanced features that a modern website is aiming at: responsive, flexible or entertaining. It is worth being the new online home for game shop owner.
The layout is simple but filled with a plenty of useful information from new gameproducts, featured products, game accessories to homepage video, leading players to the real game world with numerous choices such as Xbox 360, PS3 or PS Vita.
What's more, the gamestore theme includes many helpful and enjoyable extensions, namely: nice "Add to cart" function with flying thumbnail image; easy-to-use ajax search engine and quick-view button as well.
Furthermore, power mega menu with multiple column styles highlights the latestgame products with eye-catching images, professional sildeshow running with smooth transition effects draws game players' attention at the first sight. Let's explore our new gamestore theme to enjoy more superb features and find the best choice for your online store.
On the market there are some companies developing this kind of product.
– Game Magento Theme by Templatemonster
Due to the responsive layout, gamers will be able to shop from any handheld devices they own. Cool animated effects interact with the users. Slider advertises discounted games. Three promo banners are below it. Futuristic fonts are highly relevant for the theme. New products stand in four columns. Main menu and service menu have drop down option.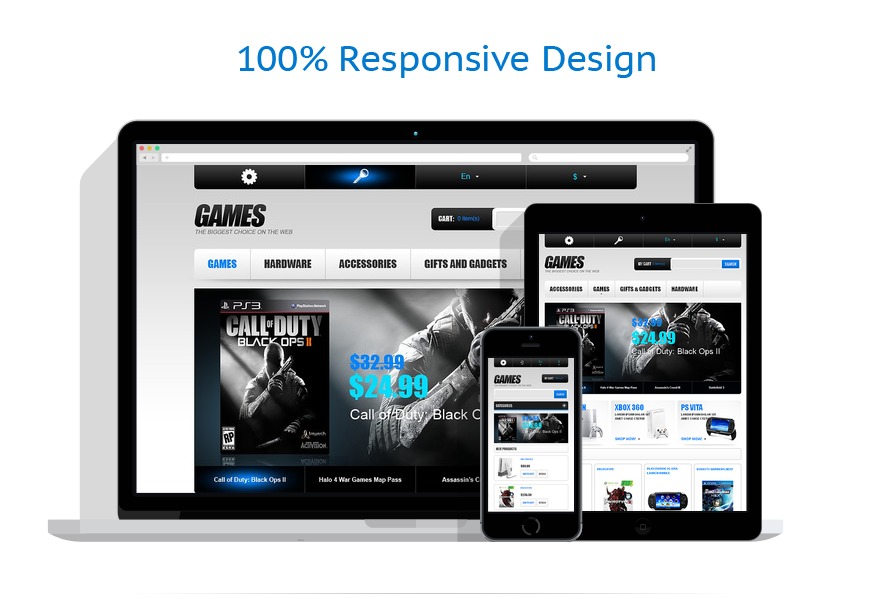 – Go Gamerock – Game Store Magento Theme by halothemes
Today we would like to show you another new theme, a Magento Go for Game store – Go GameRok. Go GameRok is a unique theme specially designed to get customers' impression from the very first sight. Go GameRok easily have all eyes on your e-store. On designing Go GameRok, we make lots of banners and special sections for certain products or promotion program you want to emphasize. Additionally, we use a slide bar to display new products section, which helps customers spend less time on finding the one they want. On the other hand, GoGameRok is created with some more sections giving products' information, promotion programs such as Customers' Top Picks, Now Available, Featured Games…., which helps customers easily pick their preferable products at the best convenience. Still you can customize your site easily (add up or leave out information in the backend).
Because this is a new kind of product there are a few companies developing it powerfully. Cmsmart is on the trend of development published Magento Game store Theme. Hopefully, our product will receive many good reviews and comments from customers. Surely, if you are interested in our product, you will feel really satisfied and we will solve all problems for you during the process of using our product.
LIVE DEMO| Magento Game Store Theme| Product Video