Magento is a feature-rich eCommerce platform built on open-source technology that provides online merchants with unprecedented flexibility and control over the look, content and functionality of their eCommerce store. With one of the best Magento themes at you disposal, you can easily build up a professional shop with an awesome look and feel in no time. There are themes for Fashion cloth, high end watches, Sports wear, candies, mobile phones, etc. I would say for any niche there is a set of great Magento themes. Magento have an intuitive administration interface featuring powerful marketing, search engine optimization and catalog-management tools to give merchants the power to create sites that are tailored to their unique business needs. It is designed to be completely scalable and backed by Varien's support network, Magento offers companies a great eCommerce solution. While the look and feel is important for conversion on the store font administration, and long term stability of the shop is important for business success. One of the best selling themes at the present is Magento Printing theme. To understand the reason why, please look around and discover some outstanding features as well as functionalities for this.
As an online Print shop owner you want an inviting home page with your offer being presented "at a glance" and a clear inner page to display your numerous subcategories and products.
And we have done just that! The home page main banner communicates to your visitors with each image and a personalized text. To get started with shopping, customers choose the category and the product, personalize it and we deliver!
Shopping was never easier!
It is ideal theme for web to print stores for selling business cards, sign boards, banners, stickers, labels etc. Homepage comes with image slideshow, product slider and various promotion banners.
Platform Compatibility:
Magento Version: 1.7.0.0, 1.7.0.2
Features:                            
–         Satisfies the highest programming and design requirements
–         No encryption, 100% open source
–         SEO (Search Engine Optimization) friendly
–         Completely customizable
–         Optimized for fast loading
–         Applicable for multi-store and multi-languages
–         Compatible with all major browsers
–         Flexible layout with 1-column layout, 2-columns-left layout, 2-columns-right layout and 3 columns layout.
–          All blocks, cart & checkout progress pages, product catalog pages and customer pages are customized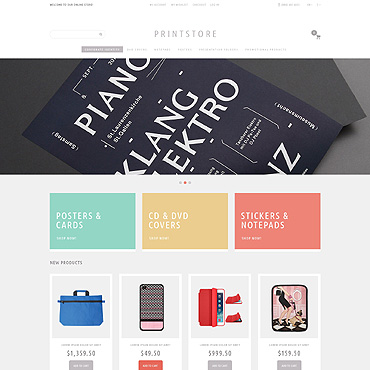 Features:
–         Responsive
–         Admin Panel
Version : 3.1.0
Functionality: Online Store/Shop
Styles : Clean and Neutral
This Magento theme is fully customized with online printing shops to receive printing orders from customers. It is a simple but professional layout that avoids cheesy colors. Shoppers can see a variety of samples for online printing services like brochure printing, business card printing, vouchers printing with an exact default size. Besides, shoppers can choose an item among the different sizes, styles, colors, paper materials as on Magento product custom fields. There is no limit to add more options. Due to a number of graphic designs that are sent to a printing supplier, the supplier will charge on a volume of printed versions.
Some outstanding features:
Sliders on home page are very animated but contain rich information.
Mega Menu which contains a large volume of categories and products of your site. Mega menu is so flexible for visitors to hover mouse over and all necessary information will dropdown, which can be considered so good experience for your potential customers.
On the header, there are a variety of options for visitors to take actions like sign up, login, choose languages to view the site or choose the currency of products or view cart. Customers can view their account and cart right on any page surfing on.
A feature highlights is the "Connect with Facebook" which allows customers to login your site by their Facebook account
Adding many static block position so you can easy customize your site
Allow customers to upload their design on front end
Are you looking for a tool to manage Magento store better? But it still has some complicated backend issues. By the way, let our Marketplace Dashboard help you.
In a series of the above wonderful magento printing themes, maybe it is difficult for you to choose which themes, don't wonder. Simply, Magento Printing theme is your best choice. With all of its great functionalities and features, surely the product won't make you disappointed and in contract, this theme will increase your sales up to high. Please believe us and use this theme. If you have any difficulties, please contact us and send questions to email address: sale@csmart.net. We will solve all your wonders.